Oh yum. This warm Russian Tea is so, so delightful, and I'm not just saying that because we are going on day five without a centralized heat source.
I made this citrusy beverage for post Halloween trick-or-treating and since then, I've kept it nearly constantly in the refrigerator for a quick-heat-to-experience-bliss moment.
The name is a little misleading since it doesn't include real, live tea. Instead it's a wonderful blend of orange and lemon and warm notes of vanilla and almond. While I have professed my love for hot chocolate abundantly in the past, I like knowing I have another warm beverage to serve right alongside for those that don't like hot chocolate (gasp!) or that just want to think outside of the hot drink box for a while.
Say hi to Russian Tea. You should get to know her. She has a sweet personality.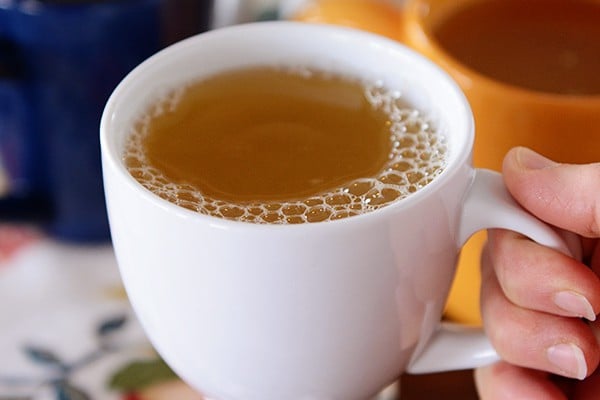 Everyone's "sweetness" level is a bit different so I included a range when making the simple syrup of sugar and water. Two cups sugar + two cups water is plenty sweet for me (keep reading for the brand of OJ I use, which may make a difference) but if you tend to like things less tart and more sweet, go for the three cups sugar + three cups water.
I use the Simply OJ brand of orange juice. The fresh flavor really shines through (same with fresh lemon juice vs. bottled, but use what you prefer).
INGREDIENTS
2-3 cups sugar (see note above)
2-3 cups water (see note above)
3 cups orange juice
1 cup fresh lemon juice (5-6 lemons)
3 quarts water (12 cups)
1 tablespoon vanilla extract
1 ½ teaspoons almond extract
Directions
In a large saucepan, heat the sugar and water to a simmer until the sugar is dissolved, 3-4 minutes. Off the heat, stir in the remaining ingredients. Heat again until warm; keep warm on the stove or transfer to a slow cooker and heat on low until serving.
This can be made up to a week in advance and refrigerated before heating and serving.